Life in the Jayhawk Battalion
---
On an average day, life as a midshipman is not all too different from that of a traditional college student. On school days besides Wednesdays, midshipmen wear civilian clothes, go to classes on their own schedule, and typically do not have any battalion evolutions to attend during the day. Once per week everyone in the battalion wears a Navy or Marine Corps uniform, as prescribed by the unit staff, and participates in battalion leadership lab.  Lead lab provides time for battalion business, guest speakers, and military training and instruction on a range of topics.
On select weekday mornings before class, the unit conducts organized Physical Training (PT).  These workouts typically start early in the morning and implement PT programs designed by student staff under the supervision of Marine Corps and Navy fitness instructors.  These PT sessions are a great start to the day and help keep all personnel on track to maintain, develop, and excel in naval service physical standards.
Aside from classes and PT, nearly every member of the battalion participates in at least one of the major competition groups: close order drill team; color guard; rifle and pistol team; and endurance team.  These groups represent the battalion at annual NROTC competitions or meets.  Drill meets are highly competitive, and as such we work hard to be prepared to continue the battalion's tradition of filling trophy cabinets.
While PT, lead lab, and competition club participation may seem like a lot of time, these events add up to less than 10 hours per week, or barely more than one hour per day.  The battalion and unit staff takes seriously its mission to best prepare you for the challenge and privilege of leading Sailors and Marines in the Fleet.  This schedule is designed to help you succeed in rising to that challenge!
THE MILITARY SCIENCE BUILDING AND LEARNING RESOURCE CENTER
Conveniently located in the middle of campus, the iconic Military Science Building (MSB) has been home to many generations of Jayhawk Sailors and Marines. Within the MSB are unit staff, student work spaces, and the Learning Resource Center (LRC). The LRC features study space and resources exclusively for NROTC midshipmen.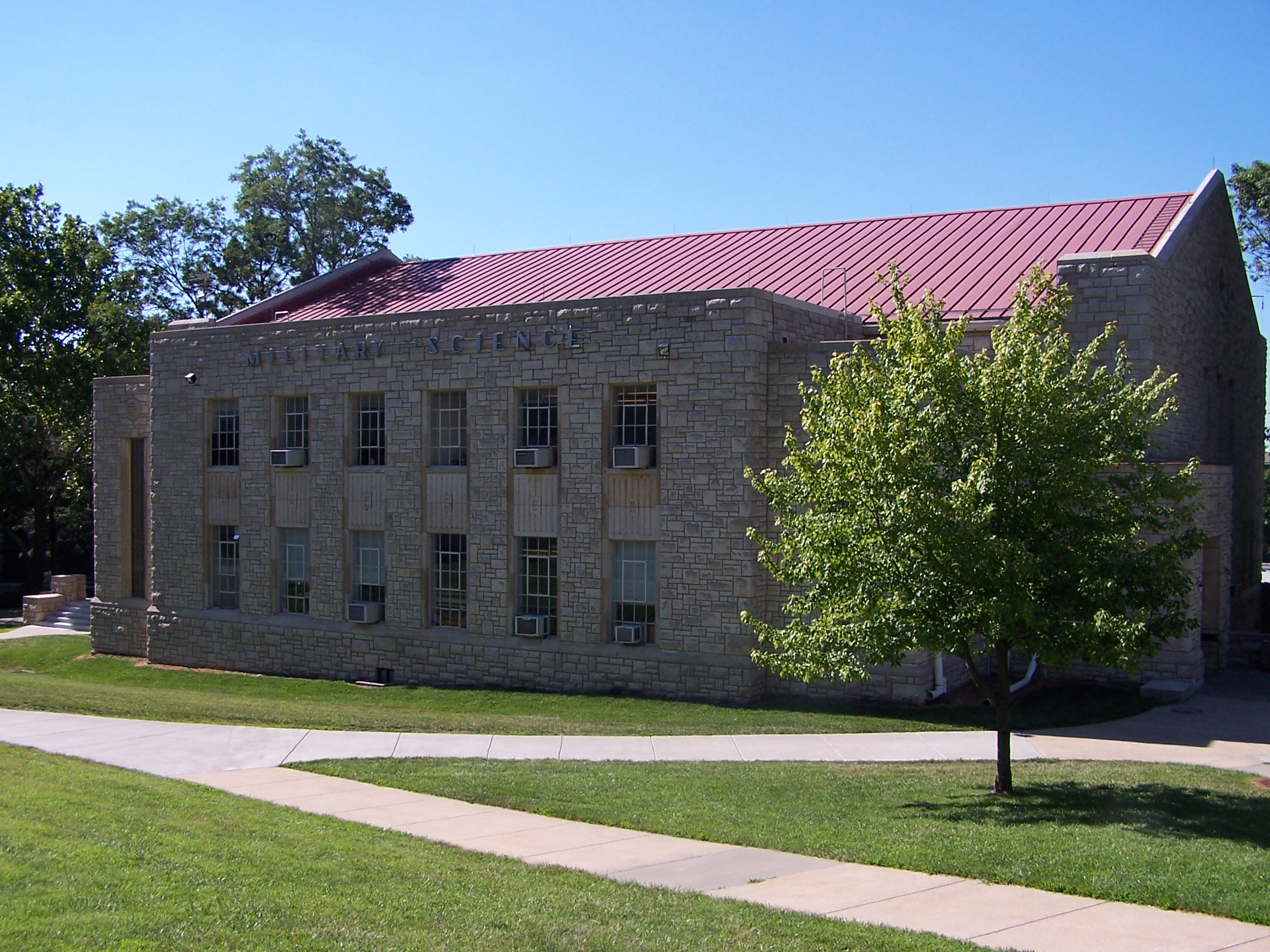 COLLATERAL DUTIES
As you accrue time in the unit and gain experience, most midshipmen can expect to be assigned a primary or collateral duty billet after their first year at the unit. Primary billets include the battalion's chain of command (Battalion commander, executive officer, company commander, company chief/gunnery sergeant, etc) while collateral billets fill out other essential functions of the day-to-day battalion operations (public affairs, communications, administration, physical training, etc).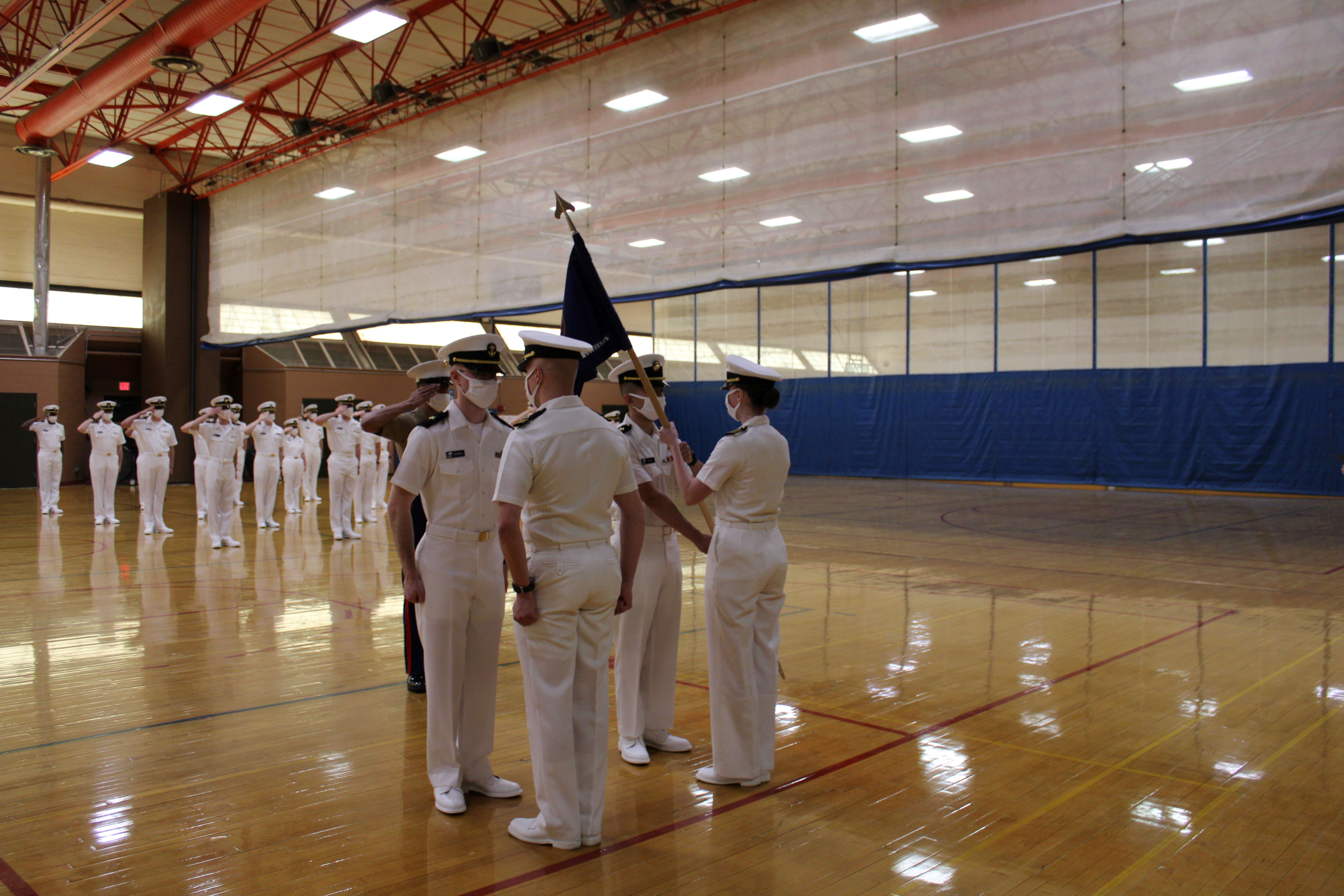 SPECIAL EVENTS
Our battalion members perform color guard details for veteran and campus memorial events. One of the most sought after duties in the battalion is performing color guard detail for football and basketball games.

Additionally, battalion members can expect to participate in at least a few training or military-oriented events each semester. Examples of these include two to three hikes and field exercises for Marine options, the Joint Services Ball, Captain's/Commander's Cup, and NROTC drill competitions in the Spring.